Growth is a top of mind priority for most business leaders across a variety of industries. However, getting from 'here' to 'there' is an entirely different story. Leaders of major organizations are struggling with uncertainty, stress and lack of confidence in choosing, mapping and executing the right strategies.
Does your organization have a growth strategy?
One of the biggest misconceptions is that your strategic plan is your strategy – this couldn't be further from the truth!
Does running your business get in the way of building your business?
Do you find your business delivering inconsistently on top and bottom line performance?
Are you susceptible to flavor-of-the-month management and multiple changes in direction?
You're not alone – over 80% of businesses are experiencing these same frustrations.
Finally, there's a way to get unstuck.
Watch this on-demand webinar series to learn the key elements of strategy, why they're critical to your success and how to get your entire company strategically primed to start delivering stronger, predictable and repeatable performance.
Session 1: How to Calibrate Your GROWTH Strategy and Culture for Enhanced Performance

Session 2: How to Craft a GROWTH Strategy for Your Business

Session 3: How to Cascade Your GROWTH Strategy into a Plan That Drives Action

Key learnings:
Key learnings:
Key learnings:

The difference between strategy and culture and how to calibrate for better performance
Developing a strategic purpose and vision to unleash the full potential of your culture
How to build a strategic plan that drives your growth strategy
The simple and clear approach to developing strategic goals for your organization

A multi-phase strategic roadmap designed to unlock and capture new growth
The starting point for all strong growth strategies
Key questions and exercises that will enhance the strategic mindset of your organization
How to leverage the power of strategic innovation in your business
Three types of growth and how to know which is right for your business

Aligning your organizational and functional structure to your strategy
How to communicate and transfer strategy to key leaders and teams in your business
How to embed your strategic plan into the operating rhythm of the business
Tools and technology that enhance strategy execution
About the speaker: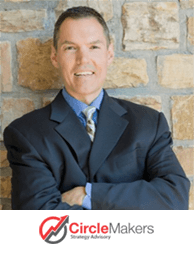 Todd Garretson
CEO & Chief Strategist, CircleMakers
With over 15 years of experience leading market share growth initiatives of top consumer brands in Fortune 500 and privately-held business environments, Todd Garretson advises and helps organizations identify new growth potential, craft strategy that moves people to action and enhance overall performance. Having a passion for helping people and organizations to unlock dormant growth potential, Todd writes and speaks for audiences in three core areas: leadership, business growth strategy and personal/professional growth.
Download Recordings & Slides