Unraveling the Mystery: Why Some Companies Struggle While Others Succeed
96% of companies never cross the $1M annual revenue mark. Many companies of all sizes will struggle or fail. But why? Which barriers prevent companies from scaling up or sustaining success, and how can you avoid them?
In this webinar, Bahaa Moukadam, a former Silicon Valley CEO with an extensive track record of success in hyper-growth organizations, shares the three fundamentals barriers to success and scalability. Bahaa illustrates, using real-life case studies, why some companies are destined for breakout success, based on their ability to execute, overcome obstacles, effectively set priorities and make better decisions. Learn how to apply these same practices in your business, as well as which lagging and leading indicators are most useful and common pitfalls to avoid.
You should watch if you're a business leader with these concerns:
I have a great plan, but my company continues to underperform
We have more people costing a lot more money
We're always busy, but never have enough time to get everything done
I'm struggling to get everyone on the same page and rowing in the right direction
I'm concerned about the sustainability of our success
We are doing well now and we know we need better foundation to sustain our success
Learn:
The framework for sustainable success
3 execution disciplines
3 fundamental barriers to scalability
Best practices for priorities setting and decision making
Which lagging and leading indicators to follow
Common pitfalls to avoid
About the speaker: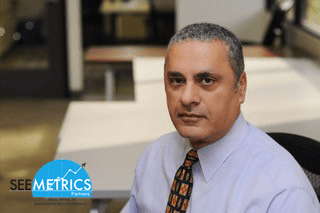 Bahaa Moukadam is the founder and head coach of SeeMetrics Partners. Mr. Moukadam's current focus is to apply his passion for success to support executives expand their capacity to lead, grow, and profit, while having more time and less anxiety. His experience as a former Silicon Valley CEO, including an extensive track record of success in international business, channel development, innovative product creation, marketing, hyper growth, M&A, turnarounds, strategic partnerships and organizational development; prepared him for coaching executives to achieve their maximum potential. He is a Certified Gazelles International Coach and contributor to the best-selling book Scaling Up.