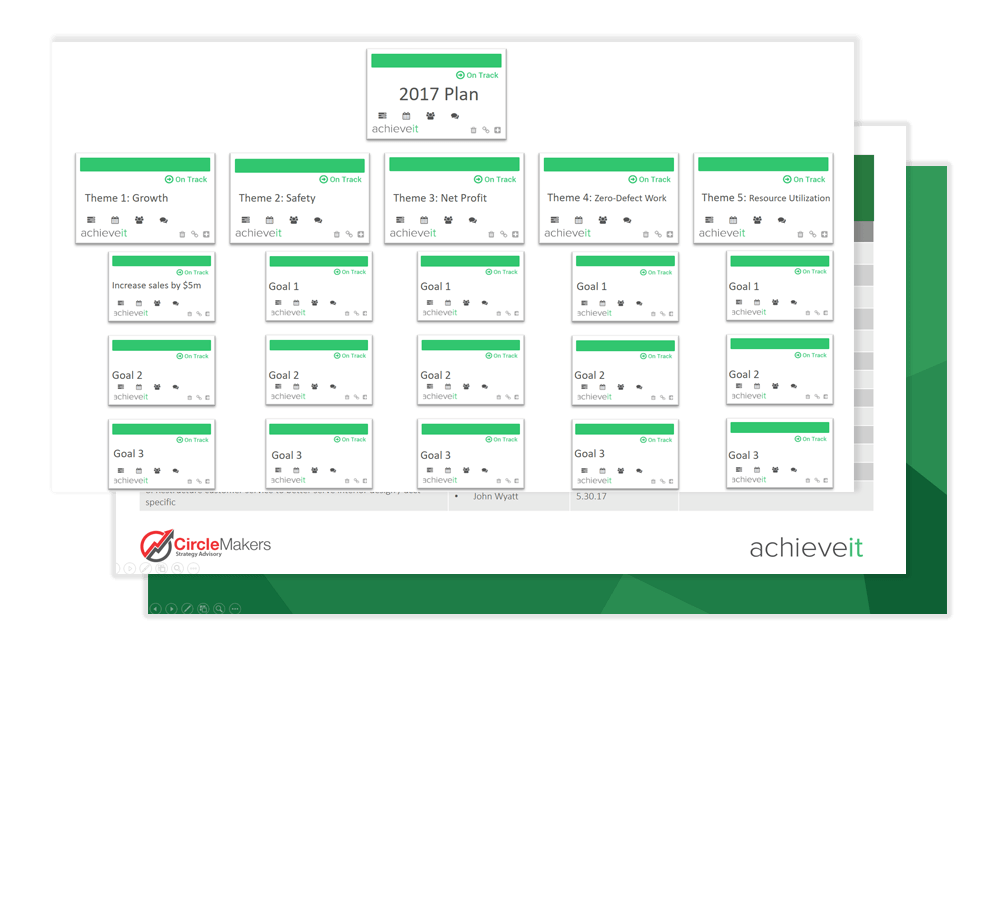 A Strategic Plan Template To Drive Better Execution
Many strategy executives are curious as to whether or not their strategic plan is following execution best practices. This four level strategic plan template will help you create a plan that's optimized for execution.
The four-level strategic plan template will help you:
Build and implement a best practice strategic plan
Visually align themes, goals and strategies
Hold people accountable
Keep an eye on due dates
Drive results
---
If you find this template helpful, you'll likely love our Execution Insight Platform. Instead of wasting time chasing updates, drowning in spreadsheets and emails, and still having little insight into how your organization is actually implementing against its plan, try our strategy execution solution.
AchieveIt's Execution Insight Platform is a Web-based solution that is purpose-built for strategy teams and executives. The platform automates updates, allows you to build real-time customizable dashboards for easy reporting and drive results, accountability and insight into your execution – without dying in Excel Hell. Sign up for a demo today.
---
This strategic plan template was created in a collaborative effort between CircleMakers and AchieveIt.
About CircleMakers
CircleMakers offers strategy services that are targeted to their clients' greatest challenges and opportunities for growth. They bring deep expertise in helping organizations identify new growth potential, craft strategy that moves people to action and enhance overall performance. CircleMakers has helped organizations access and activate their brands in multi-billion dollar markets, establishing paths to consistent double-digit revenue growth.
About AchieveIt
AchieveIt's goal is to help business leaders bridge the gap between strategy and execution. The AchieveIt Execution Insight Platform is a Web-based software solution that was purpose-built to solve the problems of strategy execution. No other solution provides meaningful intelligence on execution, eliminates the need for spreadsheets and reduces the time spent gathering strategy updates by more than 90%. So far, we've helped more than 300 companies drive better results by giving them an effective and efficient way to understand how they are executing against their most critical initiatives at any given time.