Why Successful Strategy and Execution Hinge on the Corporate Vision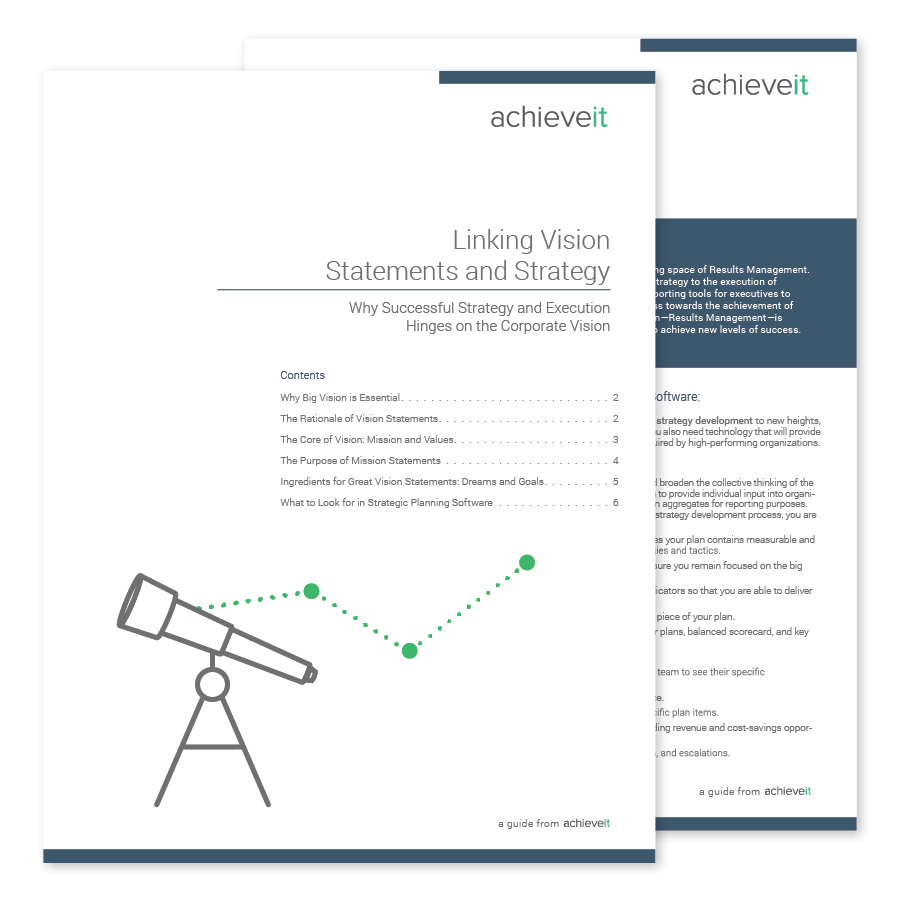 Oftentimes the difference between an organization's success and failure lies not with the ability to plan and execute, but with the vision statement itself. A strong vision statement has the power to preserve an organization's ideals, drive strategy and execution and inspire employees toward success. But in order to do so, it must be written with true understanding and a unique recipe.
Download this guide, "Linking Vision Statement and Strategy," to gain a deeper understanding of what it takes to craft a fail-proof vision statement.
In this guide, you will learn:
Why big vision is essential.
The rationale and core of vision statements.
The purpose of mission statements.
Ingredients for compelling vision statements.
Most companies can craft compelling strategies, but fall down when it comes to implementing and executing them. To improve business results, executives must have visibility and the ability to drive both alignment and accountability. That's how to drive effectively execution. None of that, however, can be accomplished with spreadsheets.  Or emails… or PowerPoint decks.
AchieveIt's Execution Insight Platform is a web-based strategic plan and strategy execution solution that is purpose-built to solve the challenges of strategy execution.  It gives executives a view into the performance and execution of their critical, high-level initiatives, which is not easy to get in either spreadsheets, email or project management systems.
The platform features customizable dashboards (no more Excel hell!), smart email alerts and the ability to see not just your data, but the critical context behind it, so you get a full picture of how you're executing, in an easy, efficient and effective way.
Stop drowning in emails and spreadsheets, hounding colleagues for updates and cutting, pasting and combining files…  and start driving better results.
Watch this 90 second video on how to improve strategy execution today.