Download this guide to learn how to best narrow your focus to the most relevant metrics, and create strategic dashboards that bridge the gap between strategy and execution.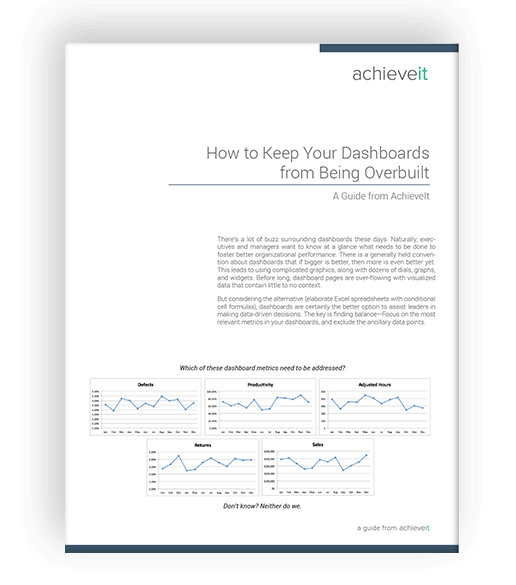 Strategic dashboards are a great "at-a-glance" tool to help leaders make informed, data-driven decisions. Your dashboards should create an insightful and succinct story around the success of your key initiatives; however, in an attempt to track everything, organizations often create an environment with no strategic focus.
In this guide, you will learn:
Reasons why your dashboards may not be effective.
How to create results-oriented dashboards.
Steps to right-sizing your strategic dashboards.
Better Strategic Dashboards Drive Better Execution
Every executive needs strategic dashboards in order to monitor and understand progress. Many attempt to build dashboards in Excel but spreadsheets aren't flexible and don't drive real-time visibility or alignment, both of which are imperative for execution. Further, dashboards are only useful if they're up to date. And there's nothing worse than emailing out a bunch of spreadsheets to a whole team, asking for updates, hounding people when they're late, cutting, pasting and combining; that's not efficient or effective.
AchieveIt's Execution Insight Platform is a web-based strategy execution solution that is purpose-built to solve the challenges of strategy execution.  It gives executives a view into the performance and execution of their critical, high-level initiatives, which is not easy to get in either spreadsheets, email or project management systems. The platform features customizable dashboards (no more Excel hell!), smart email alerts and the ability to see not just your data, but the critical context behind it, so you get a full picture of how you're executing, in an easy, efficient and effective way.
It's the only solution available that provides both meaningful insight into how you're executing and the ability to drive results with that insight. Stop drowning in emails and spreadsheets and start driving better results. Watch how to improve strategy execution today.