Download The Executive Guide to Strategic Goal Setting to learn the best practices of effective strategic goal setting and common pitfalls.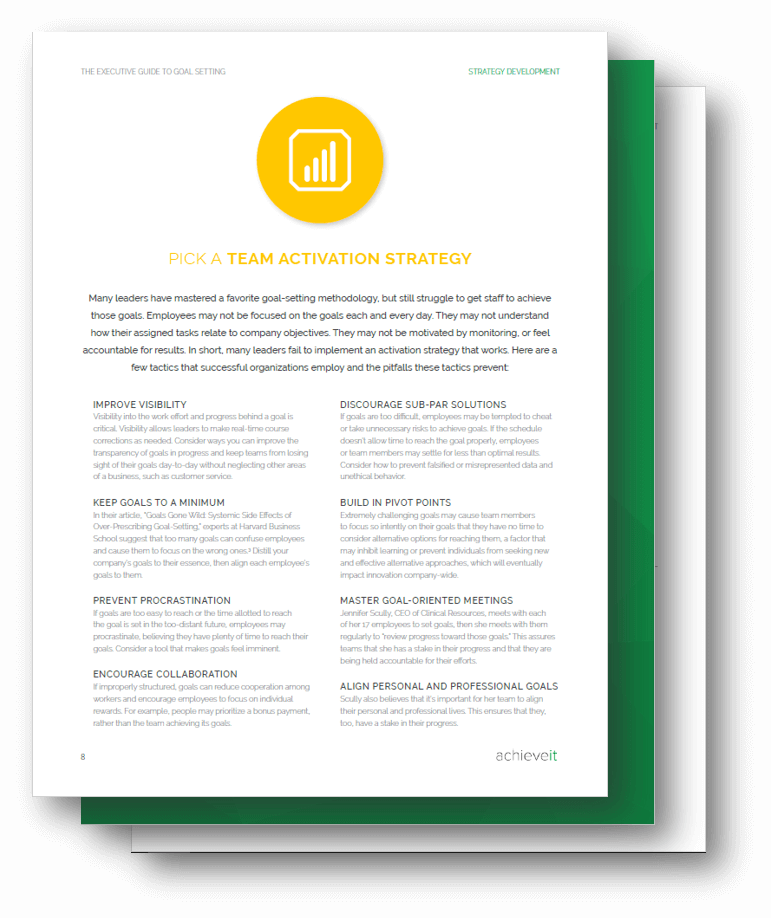 Durability and actionability must underscore your agenda. Put simply, the focus has shifted from setting goals to managing and achieving them.

In this white paper, you will learn:
5 best practices for effective goal setting
Common strategic goal-setting pitfalls
Which goal-setting methodology is right for your organization
Strategies for rallying employees around new goals
How to start improving execution
It's imperative to set strategic goals but more imperative to execute. To improve business results, executives must have visibility and the ability to drive both alignment and accountability. That's how to effectively execute. None of that, however, can be accomplished with spreadsheets.  Or emails… or PowerPoint decks.
AchieveIt's Execution Insight Platform is a web-based strategy execution solution that is purpose-built to solve the challenges of strategy execution.  It gives executives a view into the performance and execution of their critical, high-level initiatives, which is not easy to get in either spreadsheets, email or project management systems. The platform features customizable dashboards (no more Excel hell!), smart email alerts and the ability to see not just your data, but the critical context behind it, so you get a full picture of how you're executing, in an easy, efficient and effective way.
It's the only solution available that provides both meaningful insight into how you're executing and the ability to drive results with that insight. Watch how to improve strategy execution today.