SmartAlertsTM
Smarter Updates. Quicker Insights.
PLAY VIDEO
Streamline Strategic Plan Tracking with
Smart

AlertsTM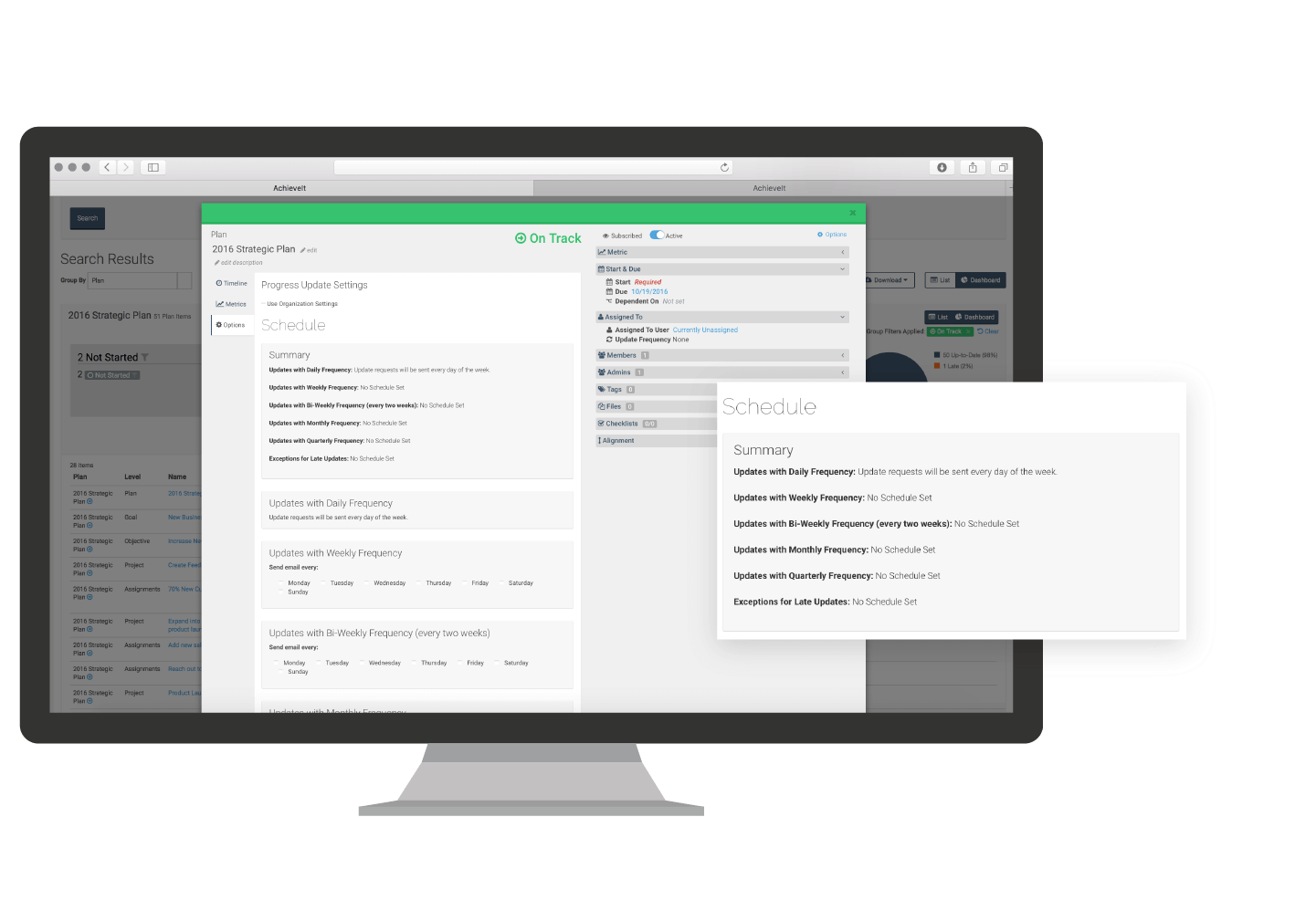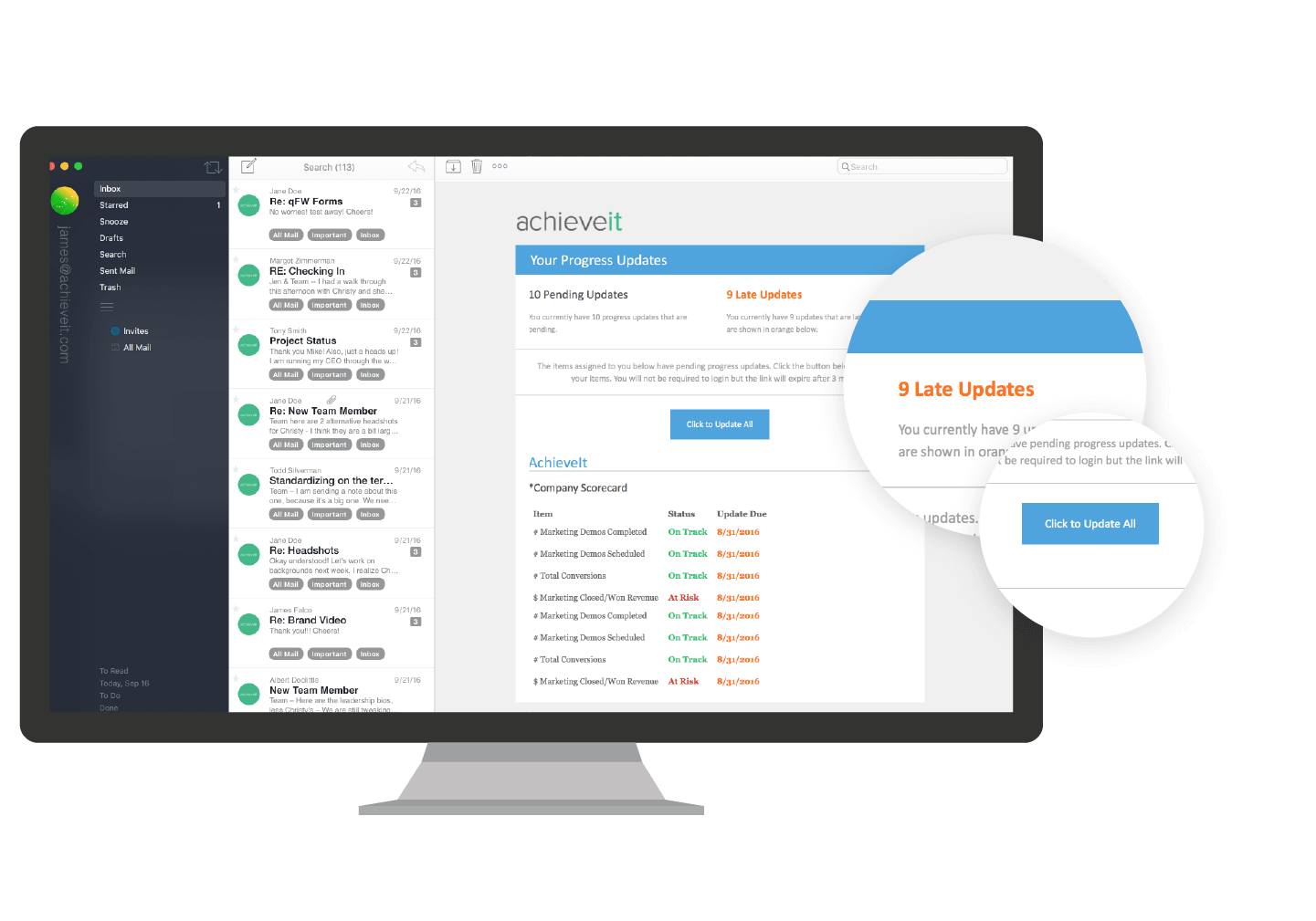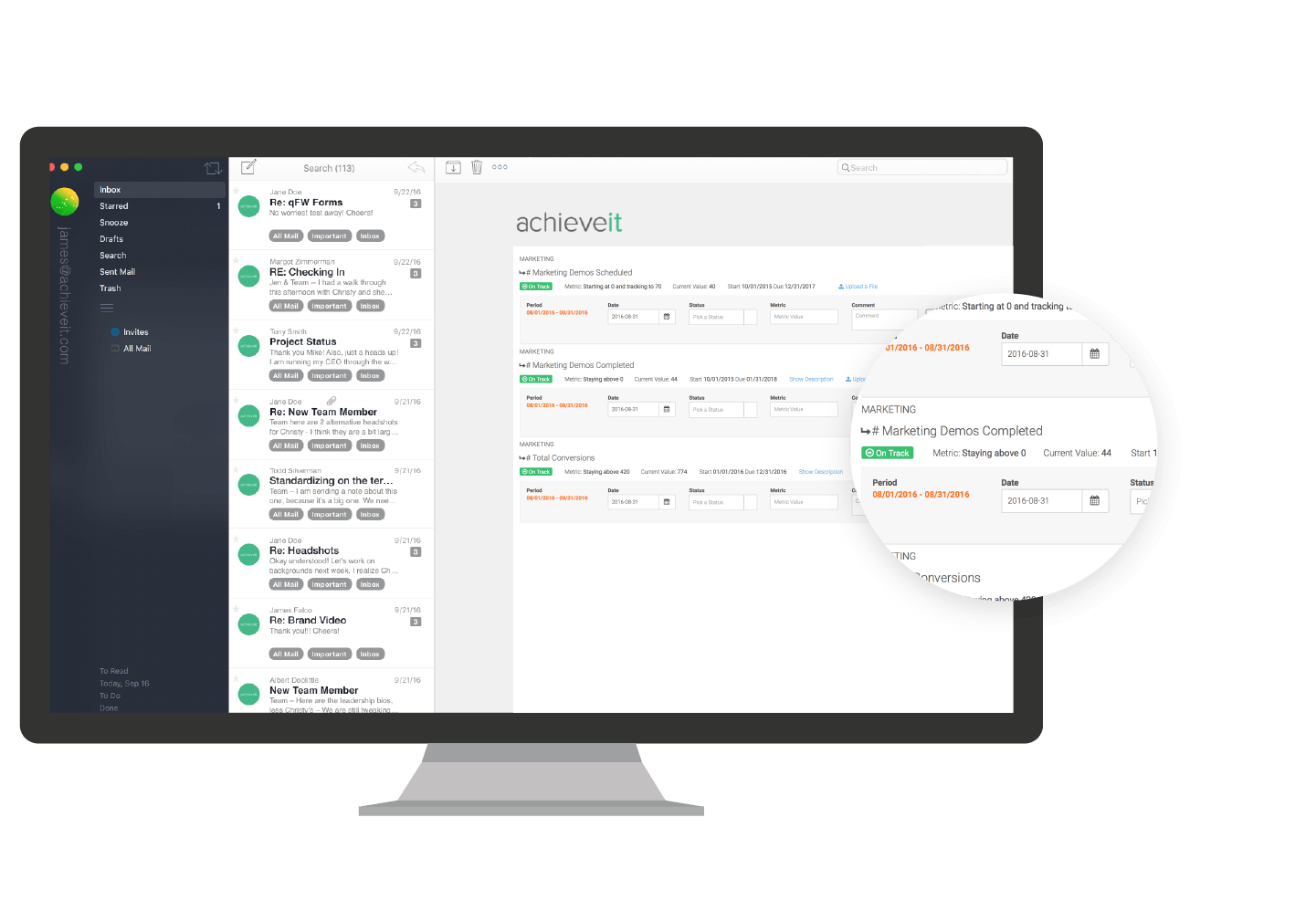 Automate Update Frequencies
No more chasing down stakeholders. Drive accountability by establishing an automated plan update schedule.
No Inbox Clutter
Other solutions add to the noise. SmartAlerts minimize inbox clutter with a single email alert for all status update requests.
Update with Ease
No need to log into a system. Provide plan updates on all assignments from single landing page and get on with your day. Easy, efficient.
Efficient, effective strategic plan tracking is a big pain for many companies. Those who attempt to track in Excel, end up emailing spreadsheets, hounding colleagues for updates and cutting and pasting. And some software solutions use "email notifications" to alert employees that they have plan items to update, which sounds helpful… but employees end up deluged in email updates that they typically end up ignoring. Plan updates don't happen, leaders don't receive the visibility into how they company is actually executing.
SmartAlerts™ by AchieveIt are different. This feature allows you to automate your status update frequencies and delivers employees with plan update responsibility a single email containing all the items requiring updates, so strategic plan tracking is easy, automated and efficient. One email is exchanged, not several. From the SmartAlerts, end users are linked to a personalized webpage in which they can update all assigned items, at once. There is no need to log into another system – they simply update, save and move on with their day.
SmartAlerts is just one of the five key features in AchieveIt that gives leaders an easy, effective and efficient way to get visibility and alignment throughout their organizations. Learn more about CriticalContext, InsightDashboards, MultiPlan View and Meeting Manager.
More Resources to Help You Drive
Efficiency

We believe our use of AchieveIt is a novel approach. I think there are still a lot of transplant programs that are using the good old Excel spreadsheet, which is incredibly inefficient. Spreadsheets are simply not a good way to organize and track your work.
Dina Steinberger
Program Director for Performance Improvement within UW Transplant Program

The user-friendly interface and built-in accountability are just two of the strengths that led our institution to choose AchieveIt as the platform on which to develop and manage our strategic plan.
Bo Connell
Executive Director AchieveIt has distinguished itself from the competition.
Charlie Grimwood
VP Regional Development

I've gotten probably 20-30 emails from across the organization saying, "Hey, can you tell me about AchieveIt? What does it do? Can it apply to the scope of my work processes?"
Amberly Stringer
Program Manager, Strategic Management & Development