MultiPlan ViewTM
Expand Your View. Drive Better Results.
PLAY VIDEO
Broader Visibility with
Multi

Plan ViewTM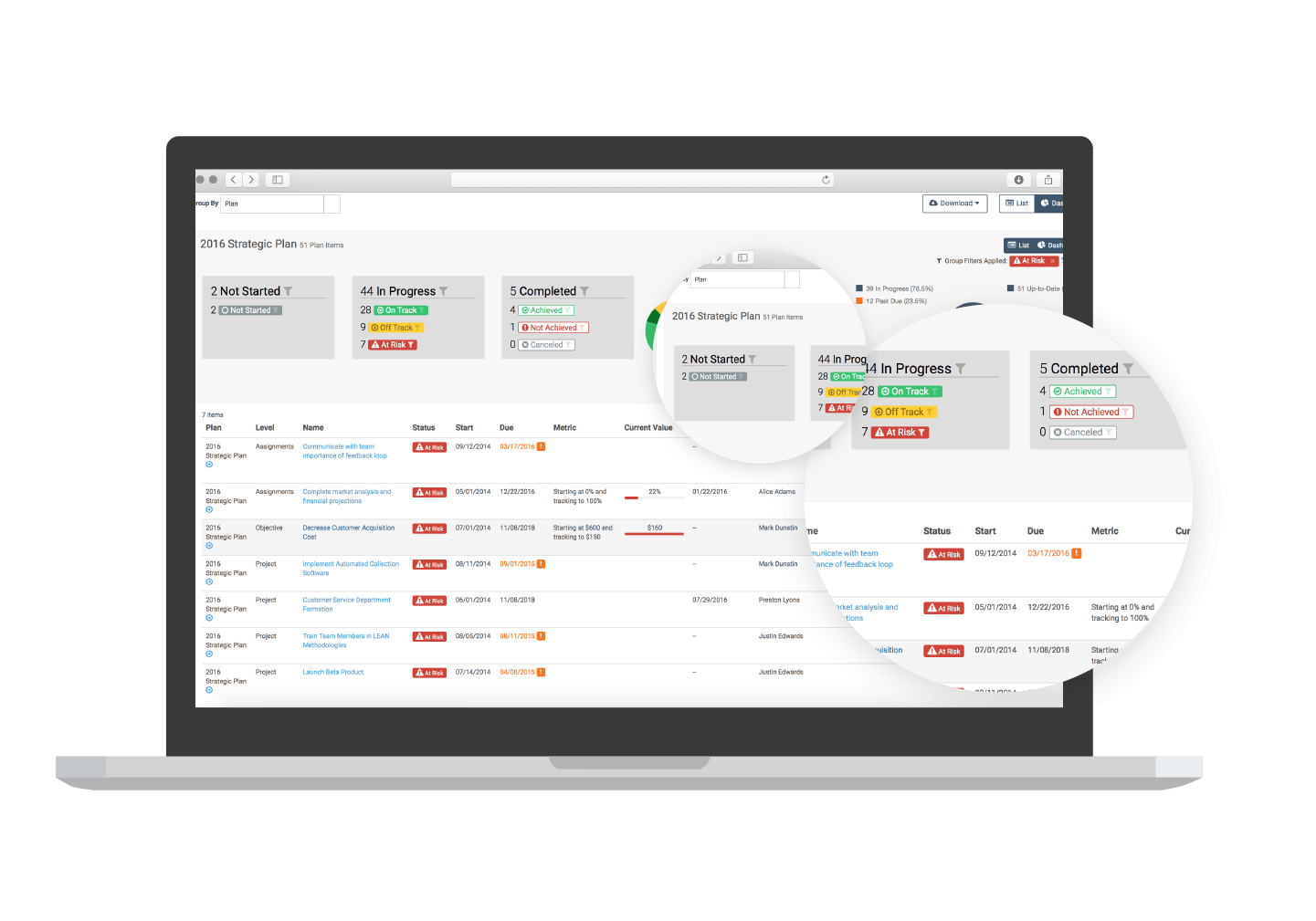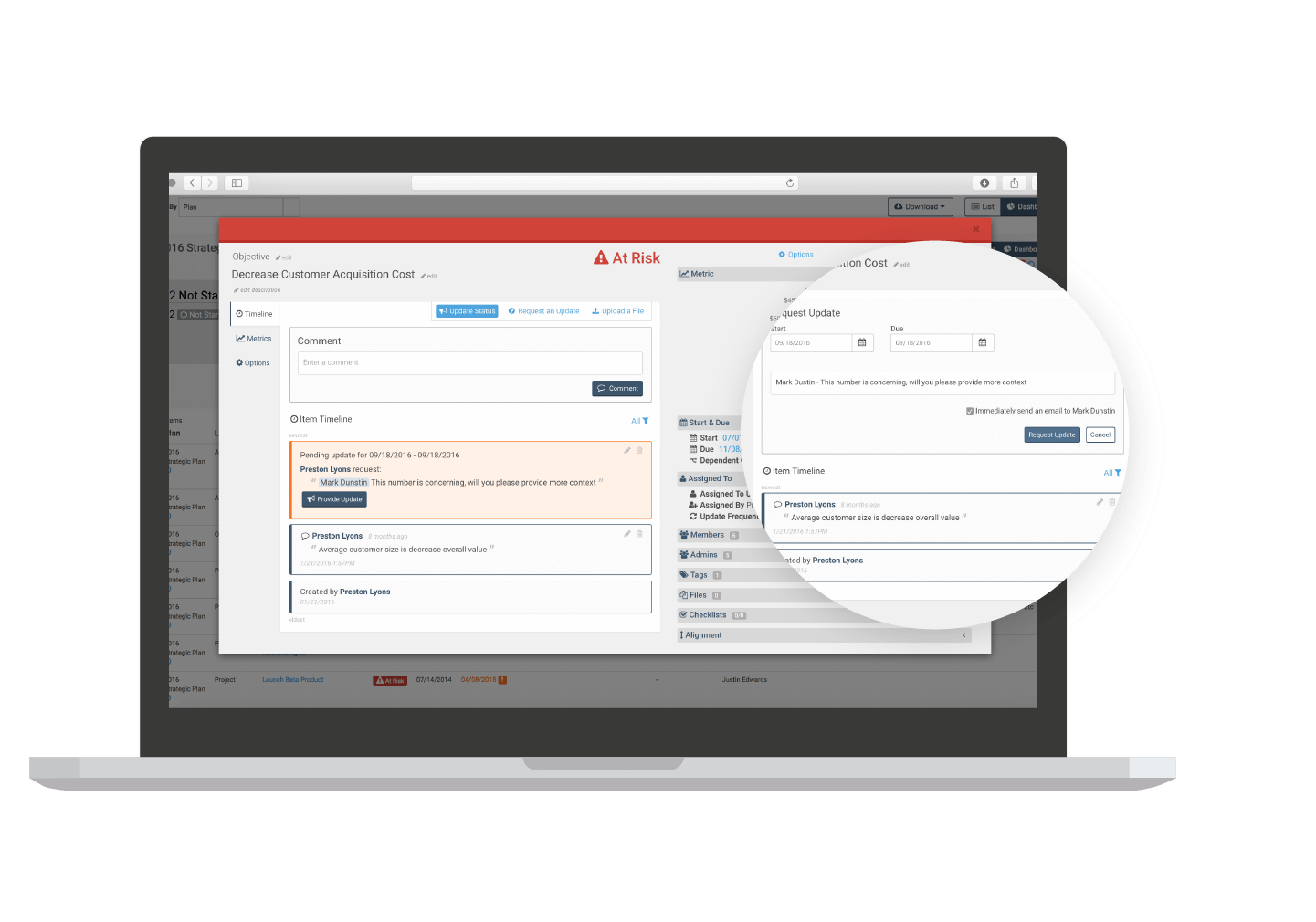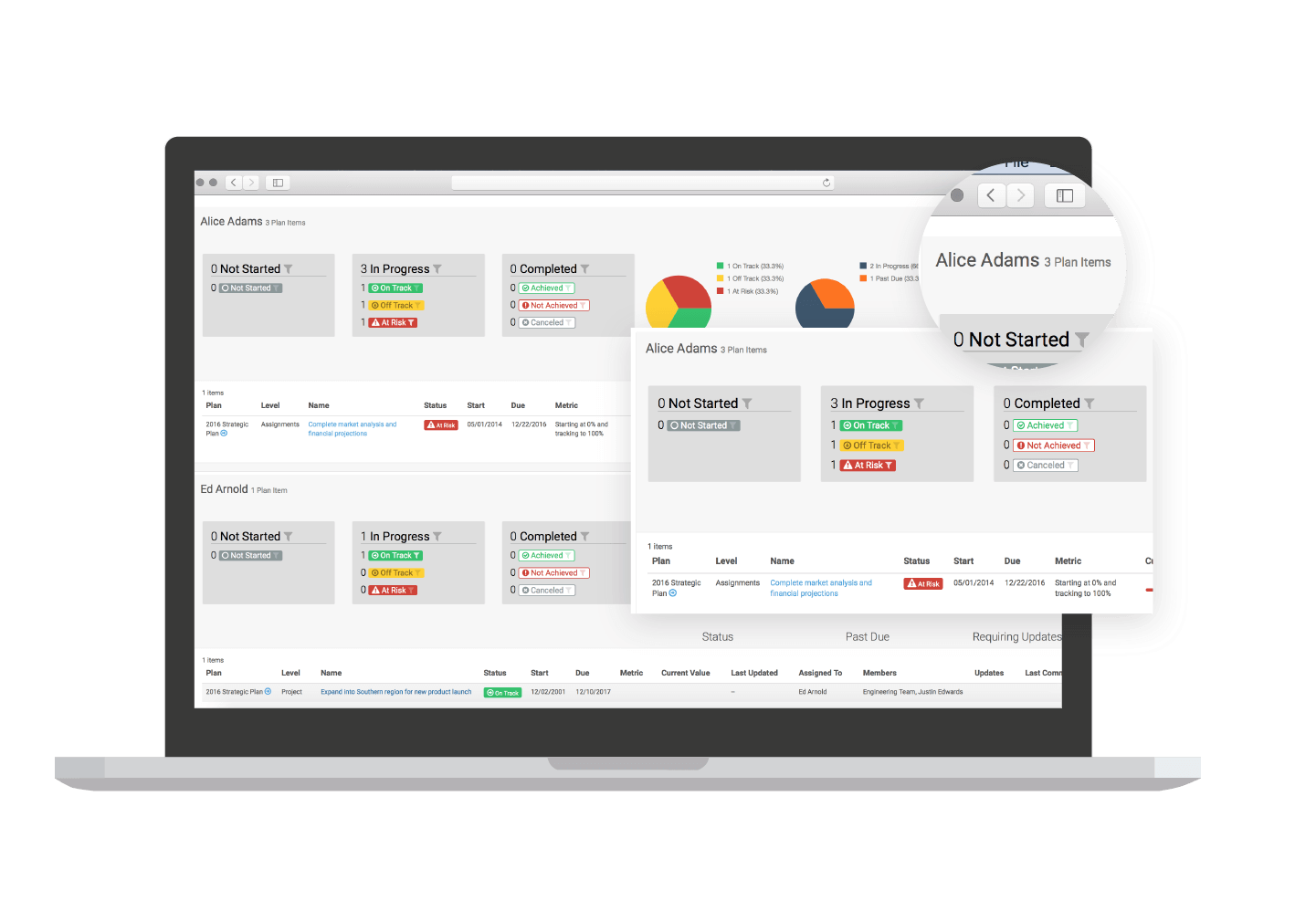 Clarity Across All Plans
Get a full bird's eye view or drill down into each location, business unit or department, all from one place.
Decision Making Insights
Easy access to the insights and CriticalContext™ you need to make better, faster decisions.
Connect the Dots
Easily identify success strategies that deliver the best results, and respond to red flags sooner.
When you're neck deep in developing your strategic plan, its easy to forget that visibility and alignment are the keys to strategy execution. While it's nice to keep people in little rows and columns labeled "marketing" or "operations", the fact is people and resources rarely contribute to only one area within an organization. And while departments can each see their own initiatives and their own plans, to grow the business, leaders need visibility across multiple plans, business units and stakeholders, so they can connect the dots, see where their resources are really going and understand the true impact initiatives are having on the bottom line.
MultiPlan View™ by AchieveIt is purposely designed to give leaders CriticalContext™ and insights across multiple business plans, stakeholders and departments, all from one place. Sometimes referred to as the 'executive cockpit', leaders can get real-time access to see which strategic plan initiatives are 'off track' or 'at risk' with just a few clicks.
More than powerful, MultiPlan View puts your operations at your fingertips like no other solution.
MultiPlan View is just one of the five key features in the AchieveIt Execution Insight Platform that gives leaders an easy, effective and efficient way to get visibility and alignment on strategic plan initiatives throughout their organizations. Learn more about SmartAlerts, CriticalContext, InsightDashboards and Meeting Manager.
More Resources to Help You Deliver
Insights

With AchieveIt, we can see in real-time how the staff and teams in all three divisions are making progress—or not—toward reaching goals. That by itself makes AchieveIt a significant management tool for us.
Hal Levitt
Executive Director of Strategic Execution

We have been searching for an online solution to our strategic planning development and monitoring, and AchieveIt provided a user friendly, flexible and cost efficient method for us to do so.
Hank Siegel
President & CEO Without question, implementing AchieveIt for our college has enhanced our documenting, reporting and accountability efforts tremendously.
Damita Kaloostian
Dean of Planning, Research & Development

I've gotten probably 20-30 emails from across the organization saying, "Hey, can you tell me about AchieveIt? What does it do? Can it apply to the scope of my work processes?"
Amberly Stringer
Program Manager, Strategic Management & Development